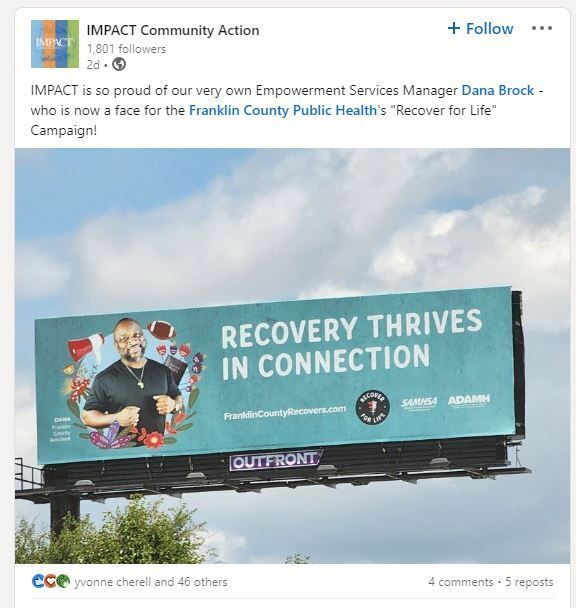 Brock speaks regularly about his experiences. He will be among those speaking at Hope In Bloom for International Overdose Awareness Day, Aug. 31. Click here for a shareable flyer.
Dana Brock shares his story to help others while healing himself.
Brock, now Facilitation/Quality Assurance Manager, Empowerment Services for IMPACT Community Action, overcame domestic violence, addiction and incarceration to find his true purpose: providing hope.
"We keep what we have by giving it away," Brock said. "My worst day sober is still better than my best day being high."
Brock is among Columbus area residents featured on a billboard campaign organized by Franklin County Public Health for National Recovery Month this September. Although he didn't realize billboards were involved until his grandson called him, Brock was happy to share his story with the group.
"I said use it anyway you see fit to help someone else," he remembered. "I thought it would just be on a website somewhere."
"I cried. I thought about being in a crack house, being in the jail cell hoping for something better. To be on a billboard was just surreal," he added. "I'm completely humbled."
One of the ads just happens to be right in front of one of IMPACTs satellite HEAP offices, making Brock a minor celebrity with those who frequent the area. He sees young people starting in the same direction he went and wants them to know there is a way through and out of those terrible situations.
Brock grew up with a prayerful mother and an abusive stepfather. After taking his first sip of beer at age six, he was a functioning alcoholic by 10. Although he managed to maintain honor roll status through most of his school career, he joined a gang and was both using and dealing drugs. He became a father at 18. After several stints in jail, he attempted suicide.
"I grew up and became the monster that I hated," he said. "I dropped the ball horribly as a father, as a husband and as a man."
In 2017 he lost his grandfather and narrowly avoided a lengthy prison sentence resulting from an argument with his girlfriend. He had an awakening in the prison shower.
"I cried like I'd never cried before," he said. "I prayed the most sincere prayer I've ever prayed. And when I came out, I felt different."
Released to a cognitive behavioral therapy program, Brock learned that even though the drugs and alcohol had been removed, he still had work to do on himself. After six months, he realized the program was within walking distance of IMPACT. He visited the agency and completed its program for formerly incarcerated individuals. Next, he completed an IMPACT employment skills program.
After a week of volunteering at IMPACT, Brock was hired. Since then, he has been promoted regularly and become a "poster child" for the agency.
"This is where I want to be," he said. "IMPACT very much poured into me. You can't put a price on it and the effects it continues to have."
In addition to working at IMPACT, Brock is heavily involved in community activism. His church, Fresh Start Worship Center, conducts a variety of outreach activities including Summer of Salvation. The events, begun in 2020 after George Floyd's murder, bring resources and fellowship directly to neighborhoods in need, he said.
"Christ did not sit in the temple and wait for people to come to him," he emphasized, noting that the city is in a lot of turmoil. "I want to do all I can to make sure people know there is a better way. If I can save one person, then I've done my job."
Brock is working toward an associate's degree in social work at Columbus State University, among other credentials. He is certified in Mental Health First Aid and as a Family Development Specialist. He's also working to create his own non-profit, the Lives Worth Saving Foundation. Meanwhile, he continues to work on and enjoy relationships with his children and parents as well as his wife, step children and grandchildren.
Brock loves to "see other people come to the realization that they can recover."
"It's not too late," he said. "They can turn their life around and leave a more impactful legacy. They just need to grab ahold of something that's bigger than they are."