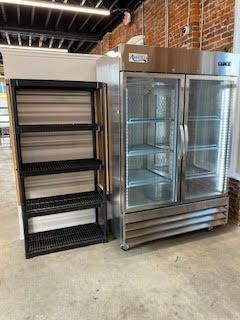 The first pre-ordered boxes will be distributed from the new Lorain County Community Action Agency (LCCAA) Produce Center this week.
"Food insecurity in our community has skyrocketed," said LCCAA CEO Jackie Boehnlein. "Spiking inflation, the end of emergency food stamp allotments and the continuing impact of the pandemic have created enormous need. Food costs are out of reach for more households than ever."
The agency's former Bike Shop on the first floor of the Ronald Nabakowski Youth Center has been converted to space for storing and distributing fresh produce to those in need.
Youth assigned to LCCAA under partnership with OhioMeansJobs have been working to prepare the center and staff has painted and installed coolers. Boehnlein anticipates the center will primarily serve residents living within two miles of the facility, however it is open to anyone in Lorain County.
"Fresh produce is particularly difficult to afford and find on the tightest budget," Boehnlein said. "We know this new effort will make a difference in Lorain."
Lorain County residents living at or below 200% of the Federal Poverty Level can pre-order boxes for curbside pickup. In the future, residents will be able to choose the items in their order.
"As we get up and running, our offerings will expand," Boehnlein said. "We know there is a great need for food in Lorain County and we are anxious to supply fresh produce to as many people as we can."
Neighbors using the Produce Center must meet income guidelines and only one pickup per household is allowed each week. Appointments must be made through the online ordering system and must be honored. Boxes will be distributed outside the center in a drive-up line.
Center Manager Deirdre Paynter said the 96 appointments available for the first week were booked in less than 48 hours. Paynter hopes to add more appointment times as the center gets up and running.
LCCAA has partnered with Second Harvest Food Bank of Northeast Ohio, who provided a $2,500 grant for purchasing food items. The City of Lorain has provided a grant of $17,000 for operating expenses and supplies.
A Healthy Places grant from Lorain County Public Health has helped the agency create a garden in open space near the Produce Center. The youth workers recently planted seeds for late summer crops. The garden will eventually supply items for the center.
For complete details, please click here.