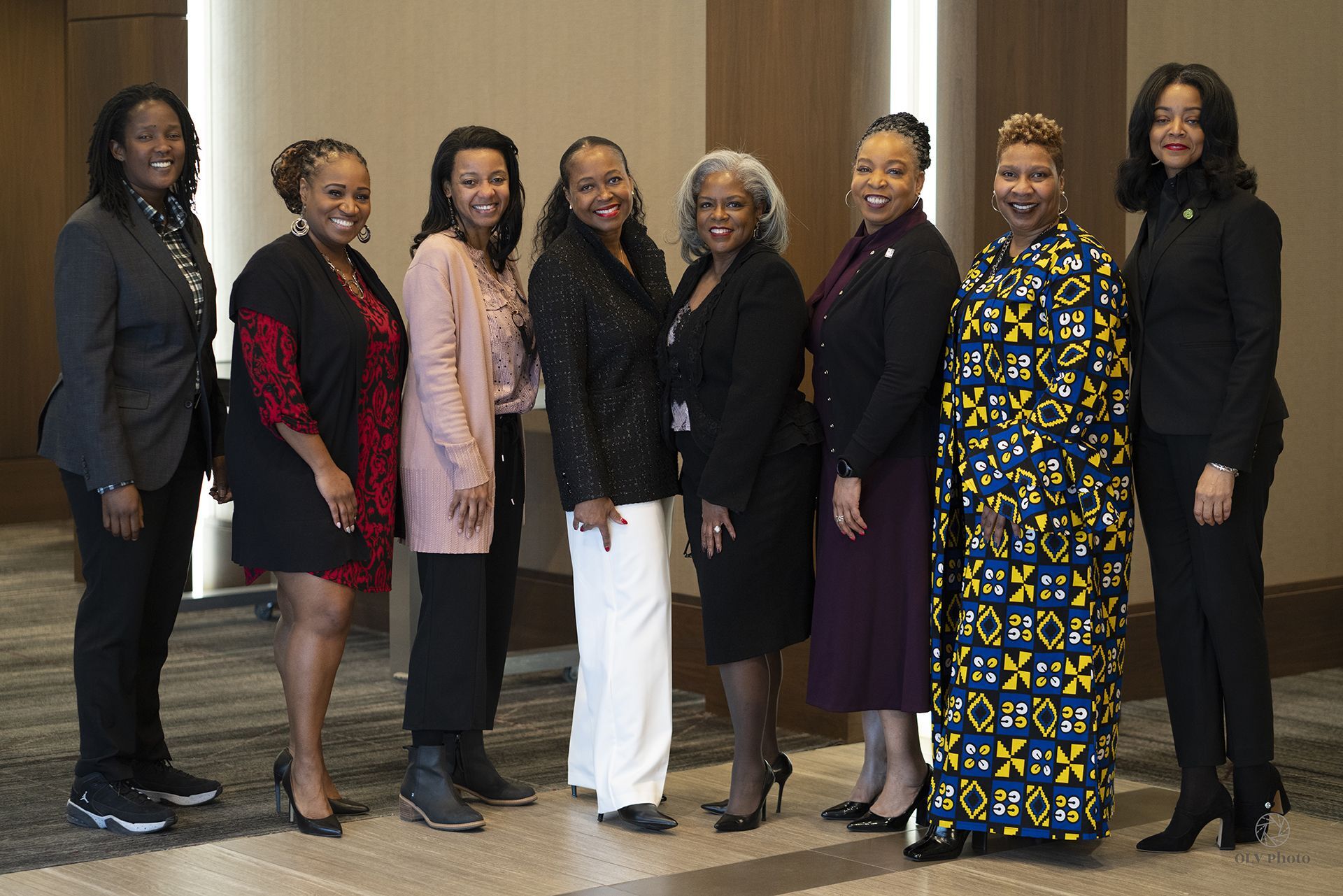 One hundred Ohio women changed their vantage points and amplified their voices. None of the women empowered at last week's Women's Leadership Symposium: When We Lead will be running of gas or dropping glass balls.
"This conference exceeded all of our expectations," said OUCAN CEO Yvonne Cherell. "Every minute included a priceless nugget of empowerment for the incredible women who work in community action and social services every day. They are already applying what they learned and they will be change makers."
The three day conference in Columbus was bookended by keynote addresses from Rep. Latyna M. Humphrey and Rise Together Innovation Institute CEO Danielle Sydnor.
Humphrey drew on her experience as a competitive runner to illustrate how to avoid running out of gas in the races the attendees run every day. She also encouraged them to never give up.
"The reality is in life, you will run out of gas," she said. "Don't ever feel like it's too late. A slong as you open your eyes, you've got another day to reach for the prize."
Sydnor reminded attendees that leadership is not just for them. Knowing their value, expecting respect and betting on themselves will help them help others.
"Who's life are you in a position to save when you lead the way you are supposed to?" Sydnor said. "When women lead, we literally change the world."
The conference also included three panel discussions, six breakout sessions and uplifting social events. Topics included managing different priorities, lifting others as they climb, finding your next level and more.
"You are enough," said Panelist Toni Cunningham. "It's okay to juggle different balls, just don't drop the glass ones. Think about what are the glass balls in your life."
Tracy Maxwell Heard encouraged participants to "covet your time" and Barbara Sykes encouraged them to walk away from jobs, people and things that don't serve them.
"If they don't value you, they don't deserve you," Sykes said.
"When you're told that you don't belong in the room, show up anyway," said panelist Monica Womack.
"I earned my way here just like everyone else," added panelist Daphne McKinnie. "You gotta be confident. You gotta be cocky and know who you are."
"Understand what leveling up really means for you," said panelist Tiffany Wright. "Remember everything you've done. There's always a transferable skill. Live life by design not default."
Participants were also treated to a glimpse of the future. Fran Frasier brought four students from her Black Girl Rising Think Tank. Black Girl Rising gives girls – not young ladies, Frasier emphasized – the confidence and tools they need to tackle issues ranging from mental health to self defense. One
"They are smart. They've got voice. They have been waiting for someone to say it's okay to speak up," Frazier said. "They get all the tools they need so when they are asked to speak, they speak with confidence."
"Change doesn't happen if there aren't change creators," said Think Tank member Lillian Corpening Morgan, who recently spoke at the United Nations on the status of women globally. "We – all of us – are someone you will hear from again in the future. We don't take anything lightly."
Conference attendees said they appreciated being empowered and refueled by transparent, authentic speakers. Many said they valued hearing from successful women who look like them.
"Every one of our presenters gave solid gold advice drawing from their years of experience," Cherell said. "They were open. They were vulnerable. It was an incredibly filling and heartwarming experience."
For many more photos and comments, visit our Facebook page.
Conference presentations are now available on our website.