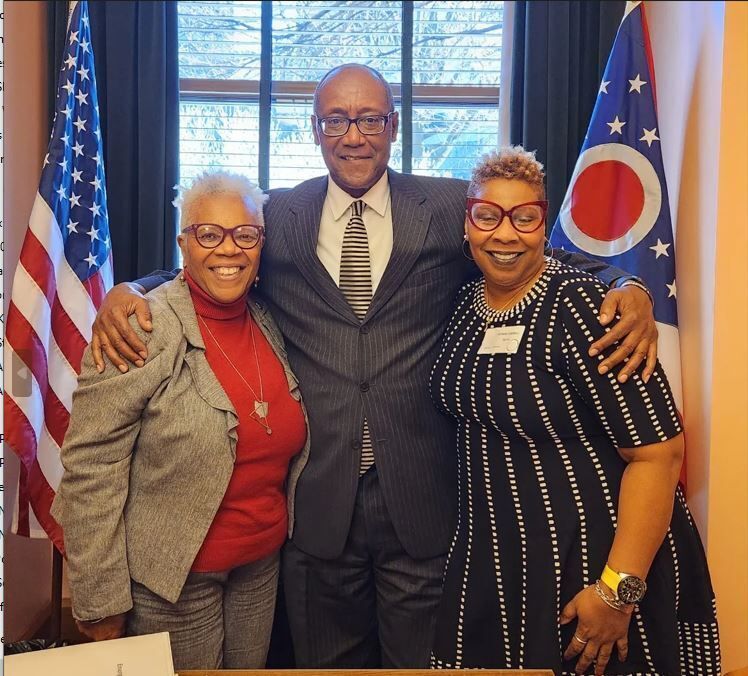 OUCAN's Advocacy Committee Chair and CEO recently met with several members of the Ohio General Assembly.
Jay Black Jr., CEO of Pathway, Inc., in Toledo and OUCAN CEO Yvonne Cherell met with Senator Paula Hicks-Hudson (D-11), Rep. Mary Lightbody (D-4), Rep. Haraz Ghanbari (D-75) and Rep. Elgin Rogers (D-44).
The advocates discussed proposed reforms to Ohio's income tax and voting regulations as well as support for universal preschool, the need for more accessible transportation in urban communities, and opportunities in the workforce.
House Bill 1 has been designed to replace Ohio's graduated income tax. Currently, tax rates go up as income increases to a top rate of 3.99% on income over $115,300 and a flat 2.75% tax on income over $26,050.
"Even without HB 1, low-income Ohioans pay nearly twice as much in state and local taxes than the most affluent do," Cherell said.
The advocates also discussed proposals of new, more stringent identification requirements for voters. Proposals to cut the early voting period and give voters less time to return their mail-in ballots are also concerning.
"Senator Hicks-Hudson shared alarming Ohio statistics, half a million African Americans between the ages of 18 and 35 are eligible to vote but not registered," Cherell said. "Additionally, the new proposed laws endanger many voters being purged from the Board of Elections database."
Cherell also attended the National Association of Women Business Owners (NAWBO) Legislative Reception as a solopreneur and event sponsor. As a member of the NAWBO Columbus Public Policy Committee, she was instrumental in the passage of SB 105, bipartisan legislation which removed needless red tape and unnecessary paperwork when minority, women and veteran entrepreneurs seek certification in Ohio. Cherell is also involved in linking advocacy priorities that support women leaders, business owners and professionals through affordable and quality childcare, wage and wealth gap reduction and representation for all.