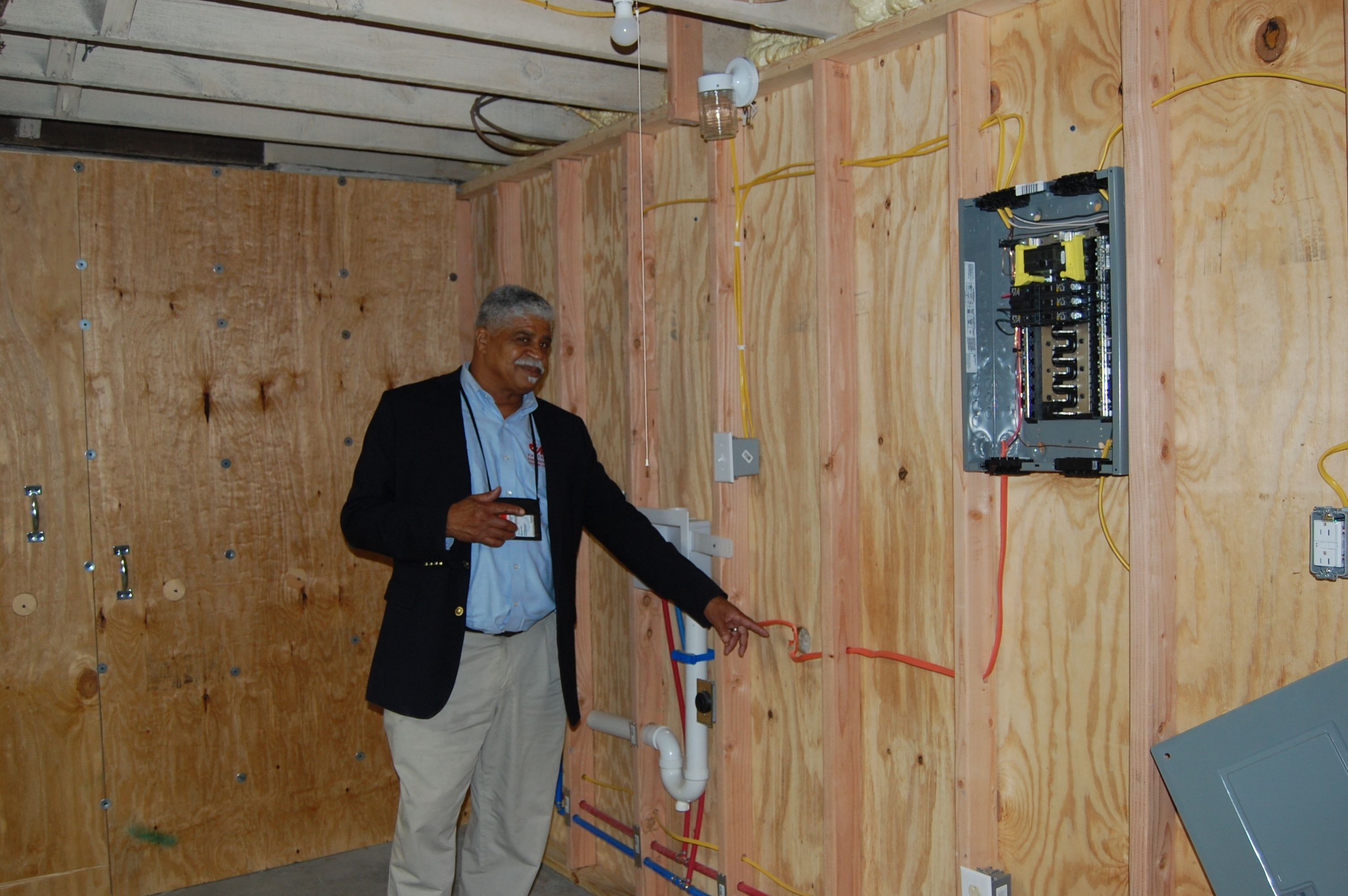 Miami Valley Community Action Partnership (MVCAP) hopes creating a regional weatherization training center in downtown Dayton will bring more people into the profession.
MVCAP partnered with the Corporation for Appalachian Development (COAD) and the Ohio Weatherization Training Center (OWTC) to create the facility. Both COAD and OWTC are located in Athens, Ohio. Housing Rehabilitation Director Barry Strahorn said the new center provides an option within closer driving distance to many weatherization providers.
"Anyone from anywhere in the state can come," Strahorn said, adding that being within driving distance lowers the cost of training for agencies.
In addition to a classroom space in the Leonard Florence building adjacent to the MVCAP offices, the training center uses a 1927 single-family home donated to the agency many years ago.
"We've never been able to use it effectively until now," said MVCAP CEO Lisa Stempler. "It's precisely the kind of house the weatherization teams are going into."
The two story home, with a basement, contains props and systems designed to teach crew members how to perform weatherization tasks safely. Weatherizing involves much more than just blowing insulation into walls, Strahorn said.
"In this program, we look at the whole house as a system and there's a difference in how you look at it," he said. "We're moving more toward healthy homes."
Weatherizing begins with tests to determine how airtight the home is. However, as the home is sealed, crews also test combustion appliances to make sure they are operating safely.
"As you seal the house up, combustible gas that may have been escaping through band joists or other gaps in the structure begin to accumulate," Strahorn said.
The training center includes the most common household appliances so crews can practice conducting tests in a controlled environment. Crews have also begun to look at items such as air quality, asthma triggers and mold mitigation.
Blowing insulation into walls is also practiced. One wall in the basement shows examples of electrical components often found inside walls in older homes. As crews drill into walls to add insulation, they may encounter wires of various vintages. After a group insulates the wall, the insulation can be removed and the area prepared for the next group.
New crew members also get on the job training.
"You can read all the books you want to but until you go out there with the guys and get your hand dirty, you really don't know what to expect," said Weatherization Director Jim Pearce.
Weatherization is also often paired with MVCAP's home repair program – which expanded significantly with COVID relief dollars – or utility assistance.
"A lot of these buildings may have structural issues or mechanical issues that need to be resolved before we can weatherize them," Strahorn said. "We collaborate with a variety of contractors and service people to braid funds and keep people from walking away from the weatherization program."
The training center can accommodate groups of six to eight people at a time. Trainers come from COAD but students come from all over. Classes from basic technician to inspector training will be offered as well as specialty skills such as lead abatement.
Pearce currently manages 10 crews with five inspectors and MVCAP serves nine counties with its weatherization program, working on approximately 600 homes every year. Pearce would like to outfit at least two more crews and many other agencies are also hiring for weatherization technicians. Stempler said the training center has potential to provide a lot of career opportunities.
"Somebody can come in here knowing nothing," Stempler said. "If they don't want to stay here, there are hundreds of jobs they can go apply for. There's a lot that goes in to weatherization, it's a complex operation and we don't have enough applicants."